INTRODUCTION
LIFE4's goal is to help players of all skill levels improve through guided challenges and a supportive community.  To that effect, we are hosting a remote team tournament to encourage the community to compete, improve, and work together!
With the help of our player interest survey, we've designed a format towards these goals:
Incentivize working together and improving as a team

Bring players together across a wide variety of skill levels who may not know each other

Give everyone a chance to contribute to their team
HOW IT WORKS
Get placed on a team with players of all ranks

Vote as a team the songs for the tournament via a team card draw

Compete against players of similar skills on other teams on five songs

Submit scores as many times as you want over four weeks

Earn points for your team based on beating opposing teams, getting full combos, getting a new personal best, and submitting scores early

The team with the highest combined score wins!
TIMELINE
Rank Royale will be rescheduled after LIFE4's return. Stay tuned!
REGISTRATION
Registration Period
Registration and qualifiers are open from February 28 – March 15.
Eligibility Requirements
In order to compete, players must be registered to LIFE4 with a rank or placement rank and be a member of the LIFE4 Discord no later than March 15.  All songs must be played on official DDR A or DDR A20 hardware using a personal eAmusement pass.
Registering with Friends
Want to play with friends?  You can list up to two friends to form a "package" on your registration form.  If they also package you, we will do our best to place you on the same team. No more than 1 Emerald player, 1 Amethyst player, or two Cobalt players per package, but one of each is okay.  No promises – fair teams are the most important to us!
Team Captains
Each team will have a team captain, who will be in charge of some light coordination.  We will be hand-picking captains from the Amethyst+ registrant pool, but players have the option to opt-out of being a captain on the registration form.
DIVISIONS
All players will be placed in one of three divisions based on their qualifier & LIFE4 Rank.  Players will compete against other players in their division on similar difficulties. From there, we will balance a number of teams based on the composition and size of the participant pool.  Each team will be comprised of players from all skill levels.
LIFE4 staff may manually adjust individual players' division placement to ensure a fun and fair experience for everyone.
Division
LIFE4 Ranks
Difficulties

Lower

Wood

,

Bronze

,

Silver

,

Gold

10 – 14

Mid

Platinum

,

Diamond

12 – 16

Upper

Cobalt

,

Amethyst

,

Emerald

14 – 18
QUALIFIERS
Process
Qualifiers will be ranked by cumulative EX score.  Players must submit screenshots or results screen photos of scores on these songs earned during the qualifying period.  They do not need to be played in a single set, and can be submitted as many times as desired. Qualifier scores will remain hidden until the end of the qualifying period.  Final qualifier scores will be shown after teams are created.
If a player already has an MFC on a qualifier song, they do not need to play the song and can submit a picture of an older MFC instead.
QUALIFIER SONGS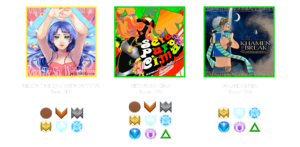 Wood, Bronze, and Silver players will qualify on the 10 and 13 only.
Gold, Platinum, and Diamond players will qualify on all three songs.
Cobalt, Amethyst, and Emerald players will qualify on the 13 and the 16 only.
Team Card Draw
For each difficulty from 10 to 18, three charts will be drawn using the card draw app.  Songs not required for LIFE4 are not eligible to be selected, including songs from limited-time events, Extra Exclusive, and gold cab exclusives.
Each team will then vote to protect one of the three charts (+2 points) and veto one of the three songs (-1 point).  The song with the highest point total will be played in the tournament. Teams do not need to use both protect and veto if they do not want, but must use at least one.
Competition
Process
After the card draw, you will have the five songs you'll need to play!  Submit scores as many times as you like for any of the songs until the deadline.  You'll be ranked against other players in your division by EX score on each song in the set, and the leaderboard will be constantly updated as more submissions are received.
Team Points
Teams will receive points for their players' accomplishments during the tournament period.
Uneven Team Sizes
It is very likely that teams will not have equal numbers of players in each division.  If that is the case, teams with more players in a certain division will have the two lowest-scoring players' scores averaged together instead of individually added.
Submission Form
The score form will be shared once the tournament is open.  The form accepts one score at a time.
Scoring
You earn your team points for each of the five songs you play from a variety of factors, listed below.  Each player's point totals will be added together to form a total team point total.
Leaderboard Rank
Individual song scores are ranked by EX score.  You earn 0 – 10 points based on your ranking by percentile.  For example, if there are 100 players in your division and your song score ranks 10th, you receive 9 points for that song.  If you improve to 9th place, you'll improve to 9.1 points. Rank points are rounded to the nearest tenth. You receive points for each song individually.
Bonus Points
Players receive points for the best combo lamp and grade they submit on a song during the tournament.  These points are earned separately and can only be improved.  For example, if you submit a AA+ with a Great Full Combo, then submit a AAA with no full combo, you get credit for the GFC and the AAA.  Keep at it!
Combo
Points
Grade
Points

Marvelous Full Combo

7

AAA

3

Perfect Full Combo

5

AA+

2

Great Full Combo

3

AA

1

Good Full Combo

2

LIFE4 Clear

1

New Personal Best
If any of your submissions beat your previous best machine score, you earn 3 bonus points!  This must be verified by "New Record" showing on the results screen.
Early Submission
You can earn 1 bonus point if you submit a score for a song before April 2nd.  You can earn this once per song for a total of 5 bonus points!
Social
Join the LIFE4 Discord to chat with your team, share your scores, and join the discussion!  Each team will have their own channel. Tournament updates will primarily happen through Discord, but you can also follow us on Twitter for big announcements.  Share your scores on Twitter using #LIFE4RR.
CODE OF CONDUCT
All players are expected to abide by the Rhythm Game Code of Conduct.
This is a fun tournament.  We are competing for joy, pride, and community.  That means:
DO:
Be competitive and do your best to win!

Be inclusive and supportive of all players and skill levels

Share your excitement about your scores
DON'T:
Put people down or make them feel unwelcome (this includes yourself!)

Try to break the letter or the spirit of the rules

Make the admins' jobs harder than it needs to be
This is pretty common-sense stuff, and we have faith that the LIFE4 community won't have any trouble with this. =)